What is Scholarship Idaho?
Each year, more than 10,000+ Idahoans apply to Idaho's eight state-managed scholarships via our online scholarship application platform where eligibility is determined in real-time and backed by school-reported data. Learn more about applying by following our step-by-step guide below.
Before You Apply
Step 1 - Gather Materials
The Information you'll need to complete your applications
Get a head start by collecting this information before you begin:
EDUID
Social Security Number (SSN)
Personal email address
Step 2 - Create an account
Creating a Scholarship Idaho account is easy and should only take a few minutes.
First, you'll be asked to read Scholarship Idaho's Terms and Conditions.
We will need basic information about you like your name, Social Security Number (SSN), gender, and date of birth.
Be sure to use your legal name as it appears on official school documents and standardized tests. This will make sure we can connect you to your high school grades, dual credits and connect with your submitted FAFSA information.
Make sure you use an email address you check often. This is the email Scholarship will use to get in touch with you.
Counselor Tip
Use an email address that you check regularly. DO NOT use your high school email address.
Step 3 - Verify your account
To submit your application(s), you must verify your email.
Login to the email you used to create your account and look for an email from scholarshiphelp@osbe.idaho.gov
Click on the verification link in that email.
NOTE: You will not be able to submit your application until you verify your email address.
Counselor Tips
Don't see the email – check your SPAM folder.
Make sure to click on the verification link, do not respond to the sender.
---
Application Guide
Step 1 - Personal Info & Addresses
A bit about you
We will need basic information about you like your preferred name (you can use your nickname here), home address, EDUID, SSN, phone number, etc.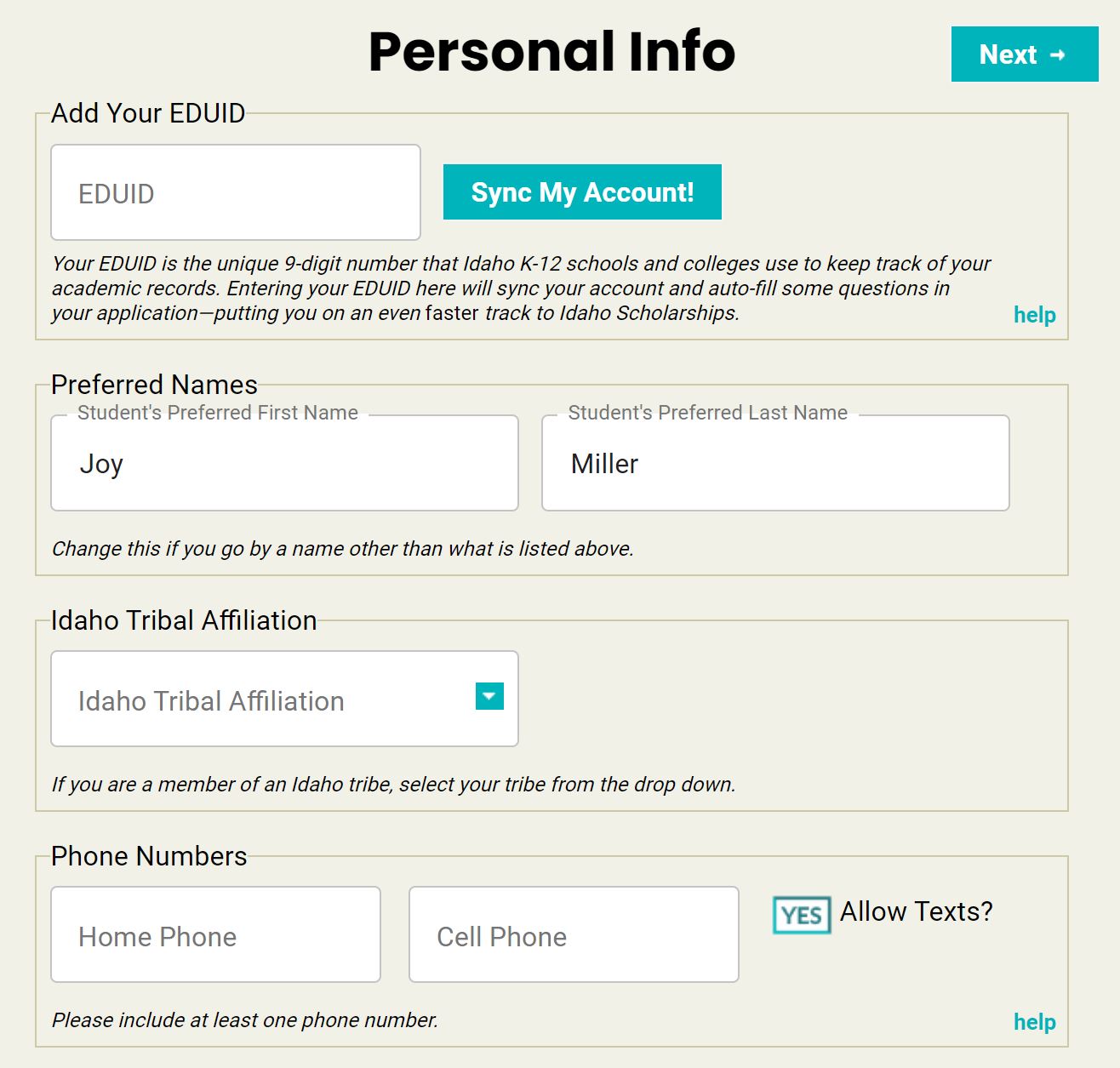 Watch out if you use your browser to autofill that it captures the correct information.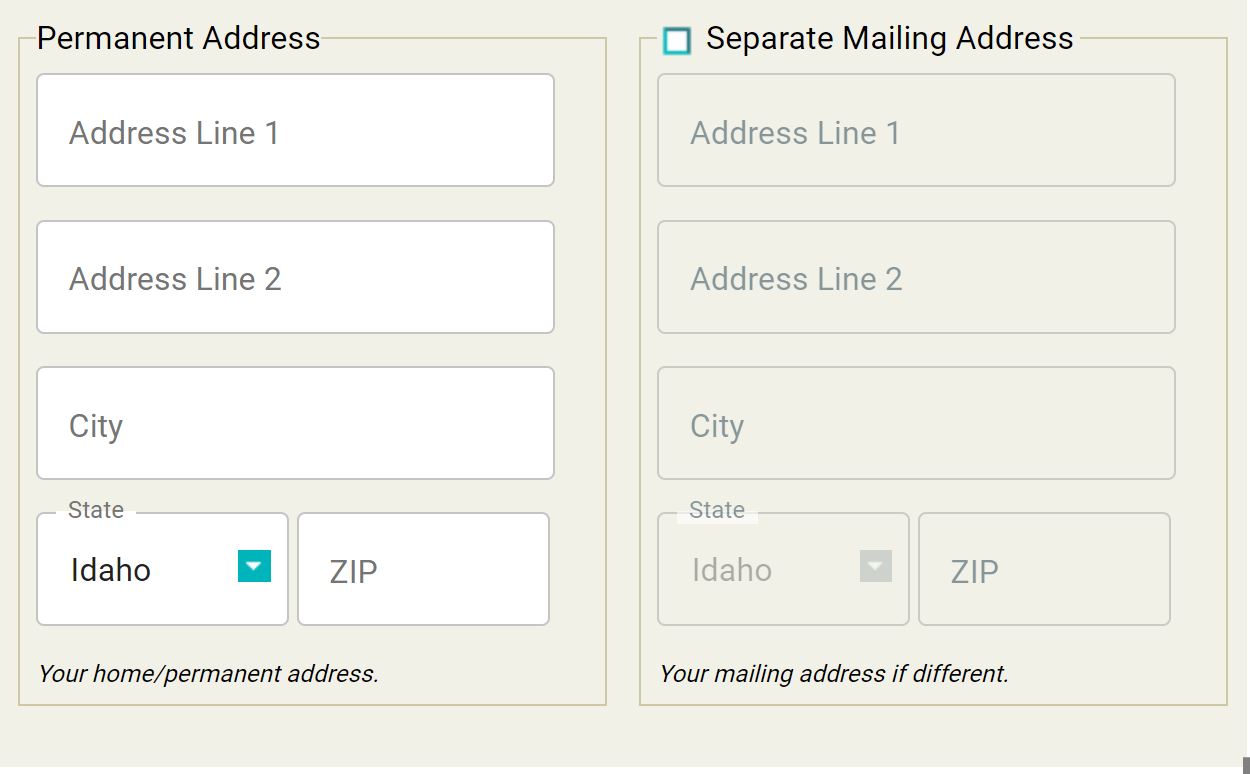 At the end, you will need to adjust your communication preference to let us know if you're okay with receiving text messages from Scholarship Idaho.

Step 2 - Qualification Questions
The MOST IMPORTANT Section - Make sure to pay close attention to each of the questions in this section. Your answers will help determine subsequent application questions and eligibility
It's important to read through all the current school status options and to pick the one that most closely resembles you.
Are you graduating this spring?
Have you already graduated?
Do you have some college credits you earned after high school graduation?

Let us know what school you are graduating or graduated from and Enter your estimated or previous graduation date.
No need to know the exact day but we do need the exact month and year.
Examples:  May 2023 or June 2023

Take a close look at the Dual Credits and Grade Point Average
If you disagree with the information from your high school record, please let us know by typing in the correct information.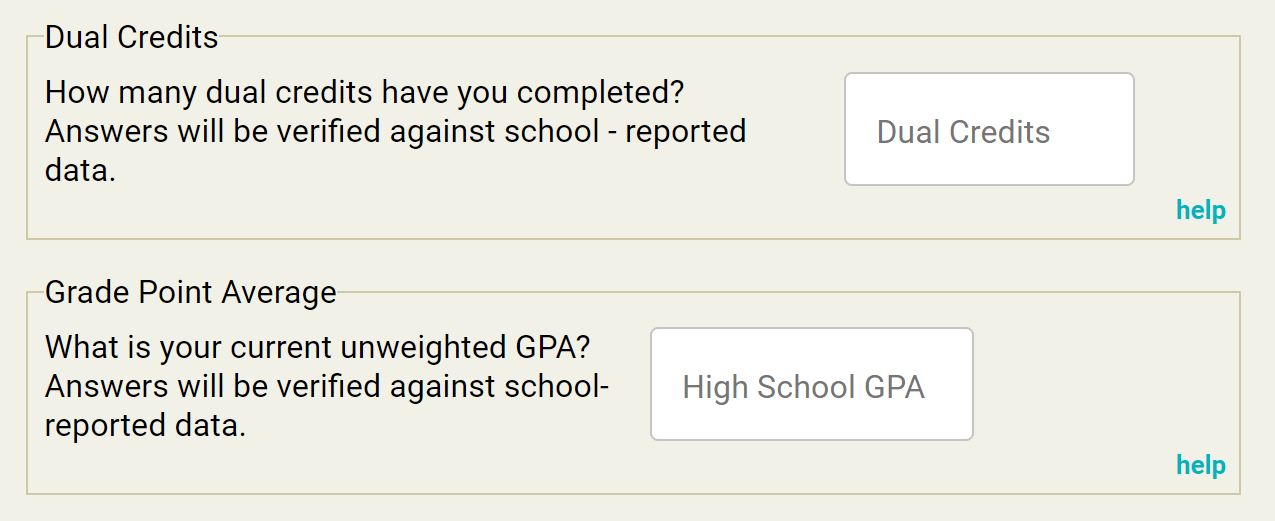 Step 3 - Scholarship Selection
Select Your Scholarships
If Opportunity is checked, do not uncheck it!
If you want to be considered for Idaho Opportunity Scholarship –  DO NOT uncheck the box.
You are automatically selected for this one if you are eligible.
REMINDER: You still need to submit your application to be considered for this scholarship.

Check any others you want to apply for.
Read the requirements of the scholarships by clicking on "details" in each box.
For those scholarships that you're eligible for and want to submit an application for, make sure to click on the box to select it.
REMINDER:  If you notice some scholarships are grayed out for you, that may be because either you do not meet the eligibility requirements or the application window for that particular scholarship is no longer open.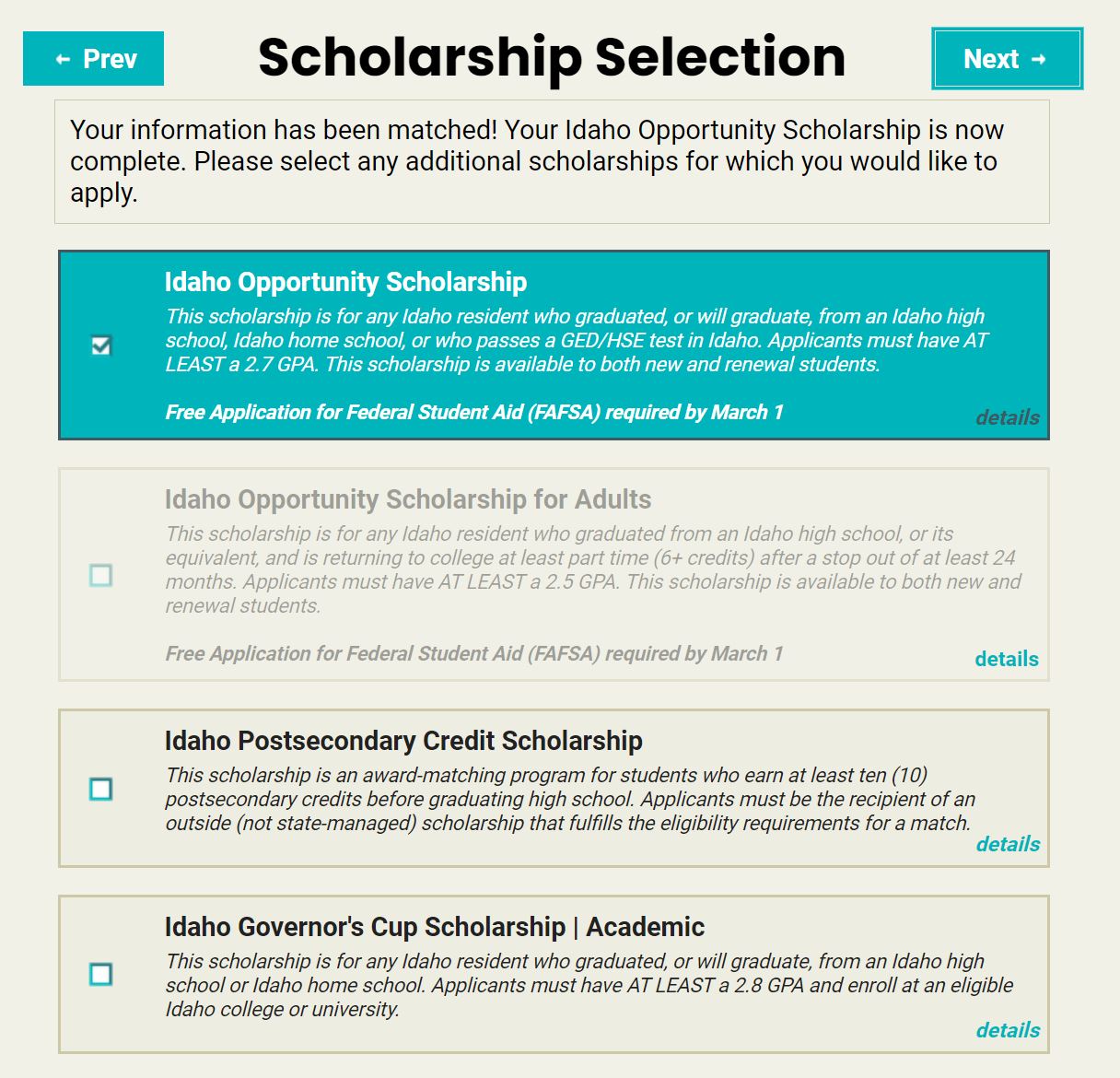 Step 4 - Scholarship Questions
Organize and plan your writing prompts
The scholarship program that the question applies to is indicated at the bottom of the box.
If you want to submit the application and come back to these questions, you can.
Be prepared to upload additional documents like your unofficial high school transcript, your dual credit transcripts (reminder if you took dual credits from three schools, you'll need to upload transcripts from all three), your SAT or ACT test scores or a copy of business or industry scholarship you've already been awarded.
Unofficial Transcript – Ask your counselor for a copy of your unofficial transcript.
Dual Credits – If you have dual credits you will need to request transcripts from all the schools where you've earned dual credits.
SAT/ACT – Login into your college board or ACT account to access a copy of these documents.
Business or Industry Scholarship – Make sure to upload a copy of the scholarship application along with your award letter.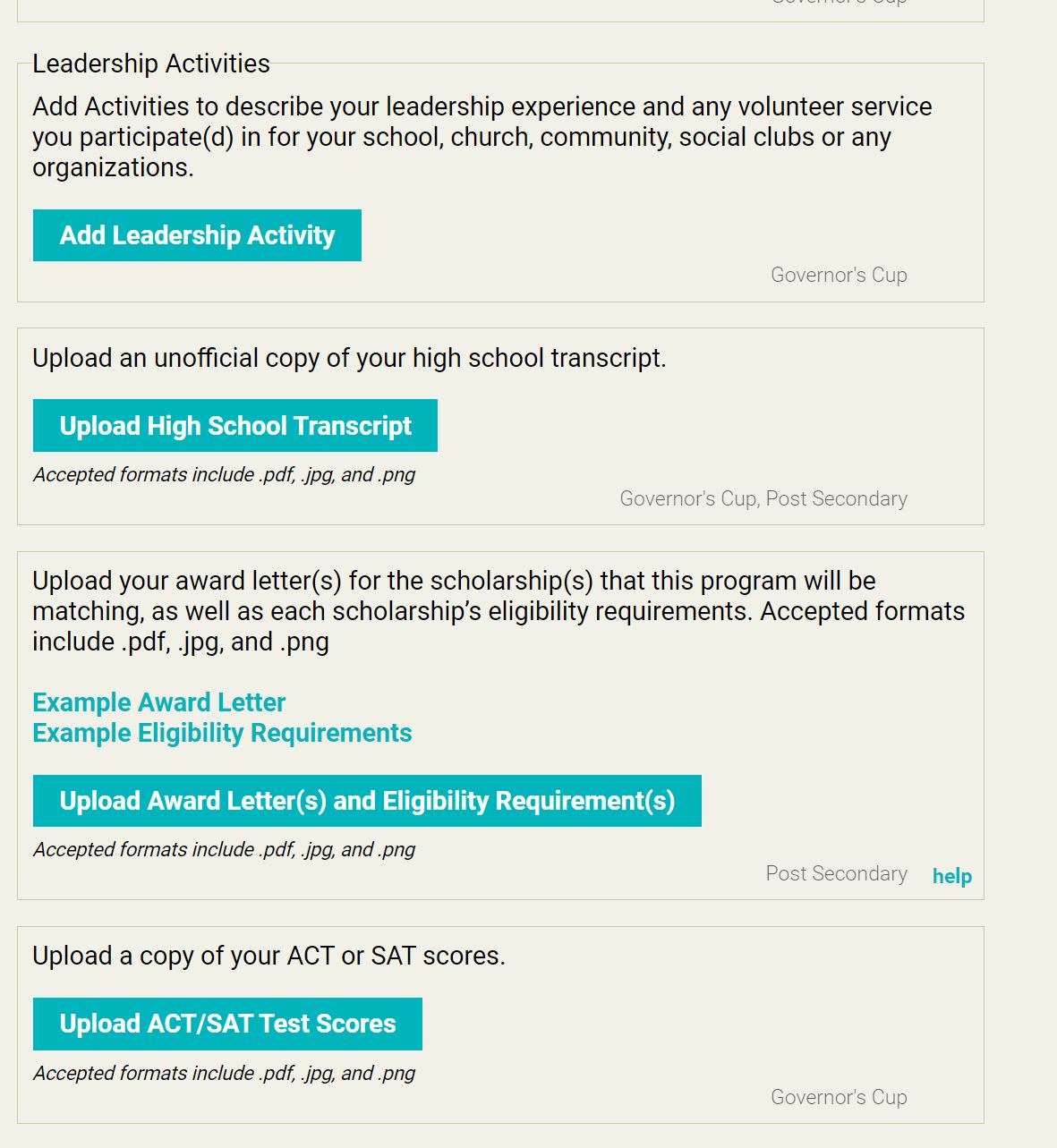 Several of the scholarships include short answer questions or essay prompts within this section. You can find specific information about each scholarships writing prompts here.
For example, Governor's Cup requires applicants to describe their leadership and volunteer service.
Step 5 - Application Summary
Review and submit your application
If you're missing any information,  go back and fix it on the corresponding screen.
The submit button will remain grayed out until you've fixed all the missing information and verified your email.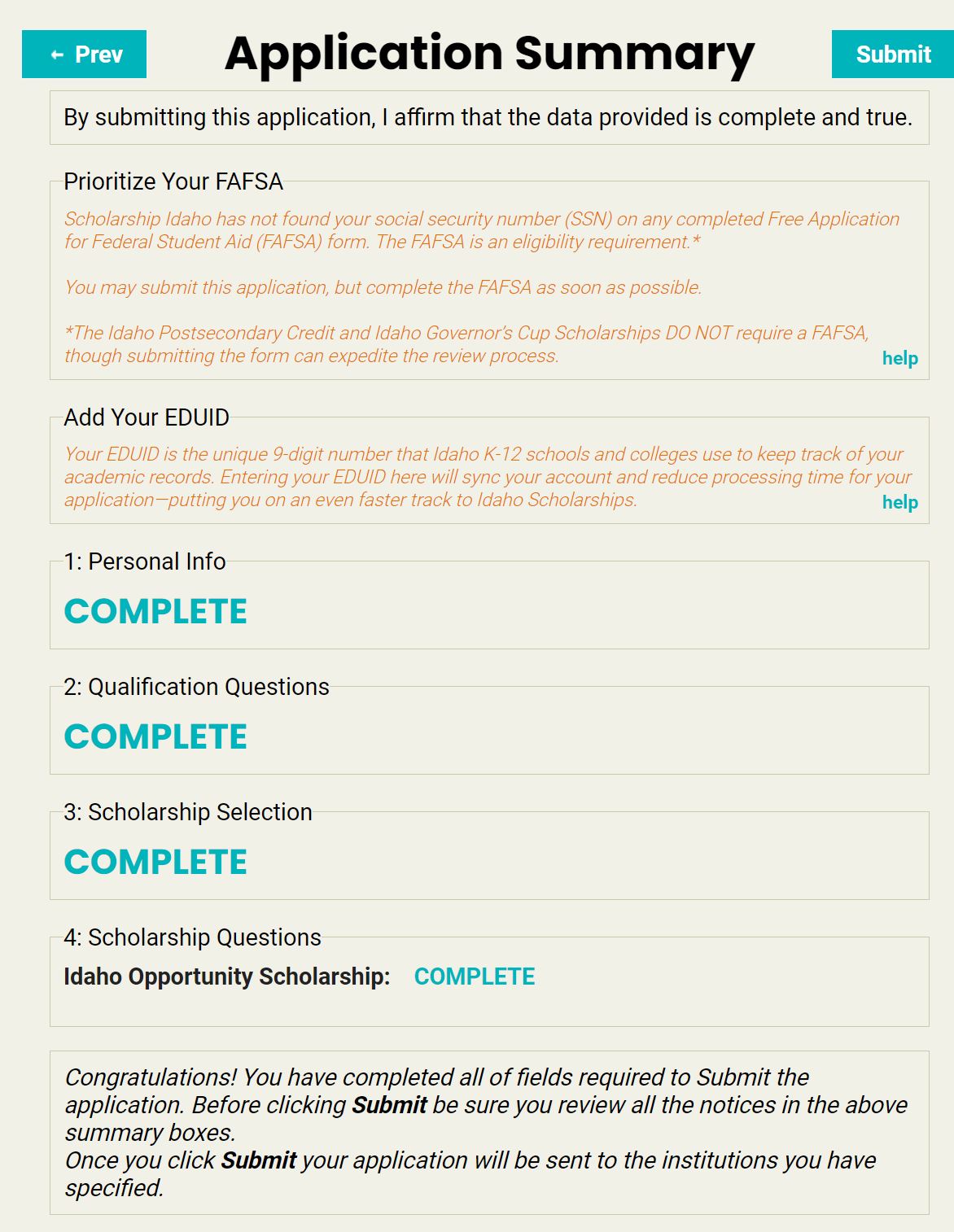 If you haven't done so already, make sure to confirm you email address.
Login to the email you used to create your account and look for an email from scholarshiphelp@osbe.idaho.gov
Click on the verification link in that email.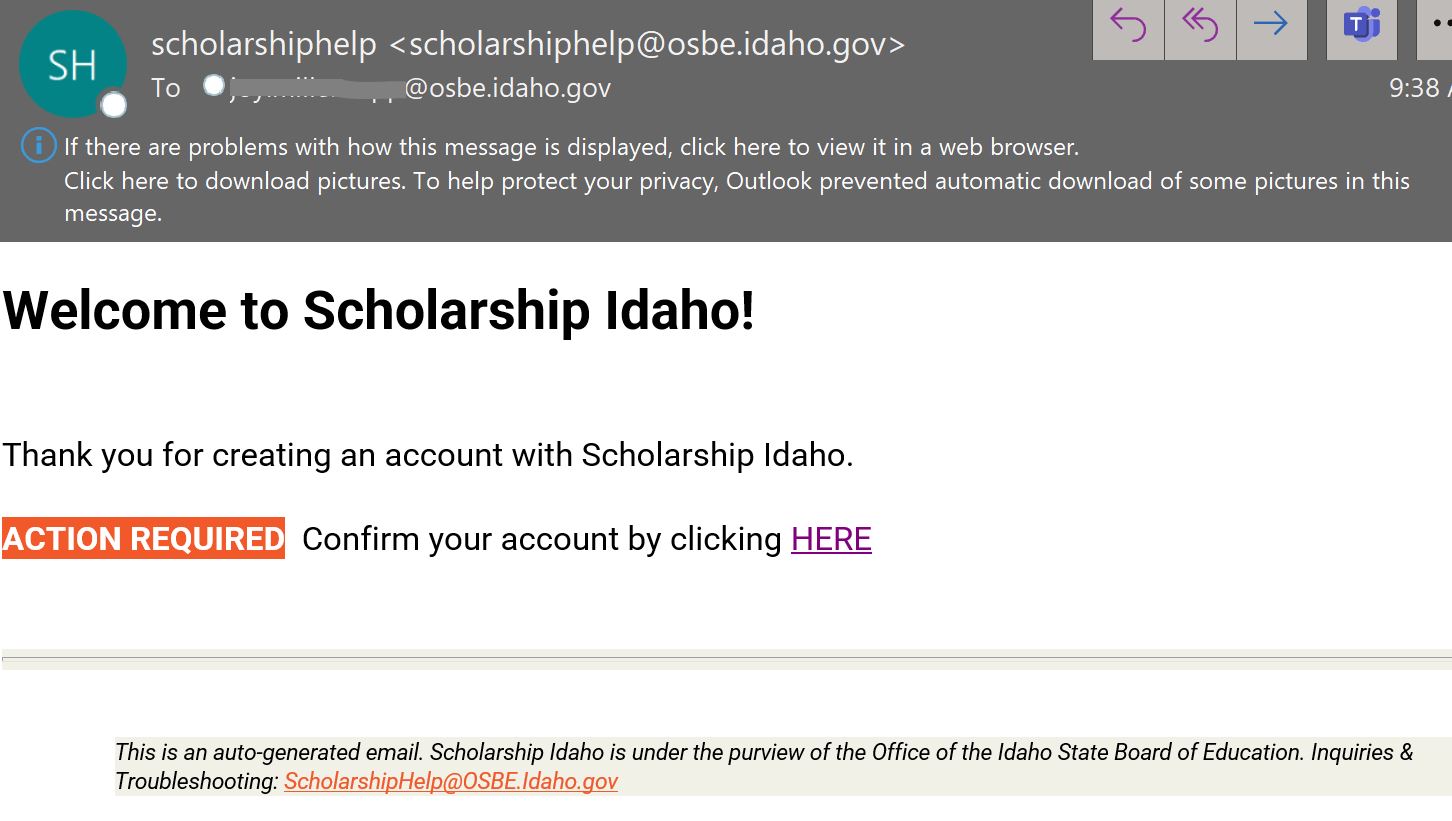 Step 6 - Confirmation
Congratulations!
Check your inbox for a receipt of the scholarship application(s) you just submitted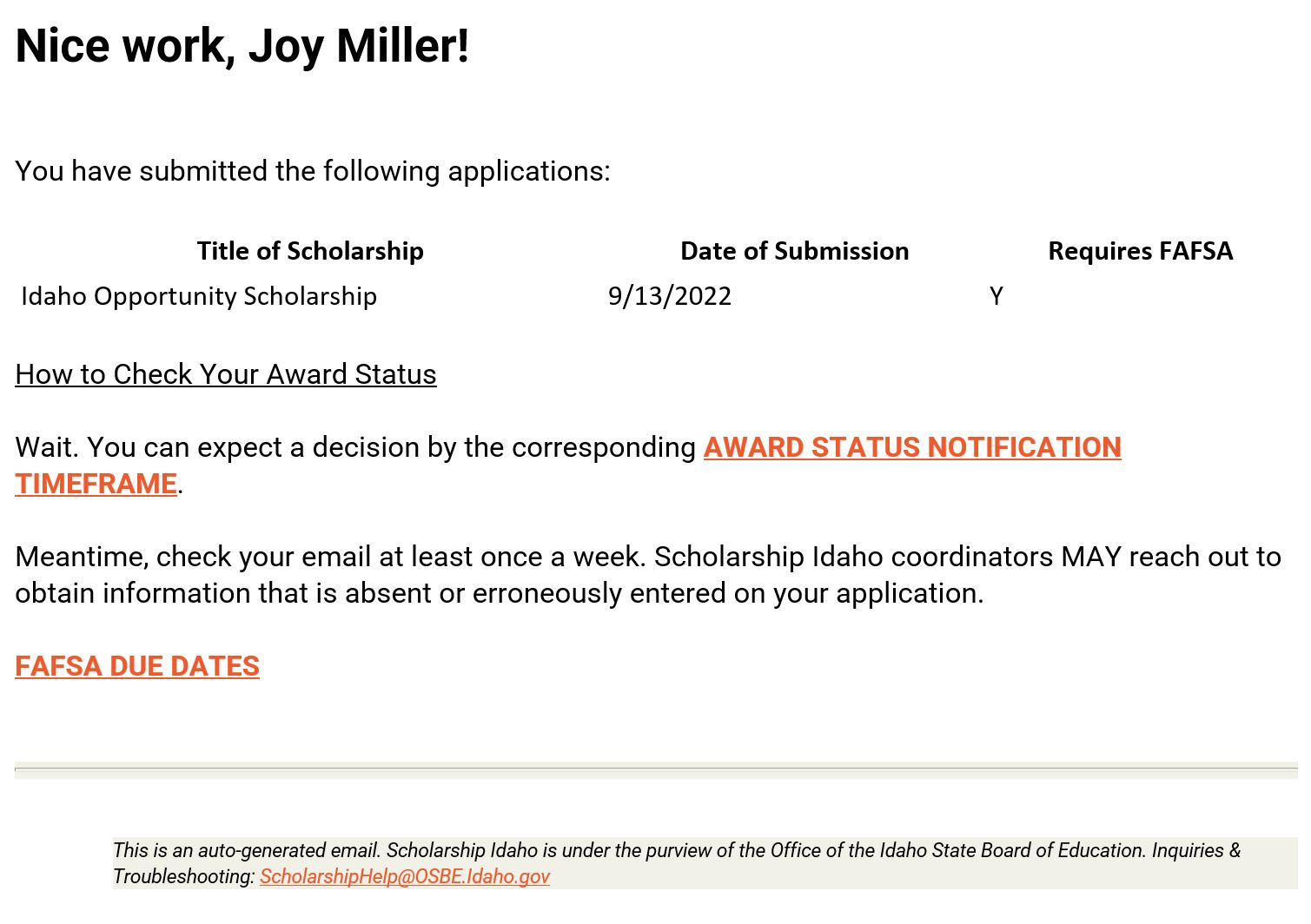 After submission, you can always log back in to check your current application status.
REMEMBER:  the scholarship application season is a long one (typically Oct 1 – Mar 1 each year) so don't expect to hear about awards until late April.
Questions or concerns about your application or next steps in the application process should be directed to the Scholarship staff.
Get ready to begin your journey
Walk through the application with us before you apply. We'll look at approaching the application and hear advice from your Next Steps Idaho team.
General Answers
Need help getting your application to the finish line? Check out these helpful topics and if you still have questions, reach out to us at scholarshiphelp@osbe.idaho.gov
Deadlines
Scholarship Idaho opens each year on Oct 1 and each of the 8 state-managed scholarships have their own unique deadlines. Check them out here.
To meet a particular application deadline, you must submit your application materials by 11:59 pm on the closing date for that scholarship.  Keep in mind, that all timestamps are recorded in MST (US Mountain Standard Time).
Reminder:  For any scholarship requiring a completed FAFSA you must have submitted it to Federal Student Aid by 11:59 pm on March 1st.
It is always better to submit well before 11:59 pm to avoid last-minute issues with your computer or internet access that might cause you to miss the deadline!
Registration
Who can use Scholarship Idaho?
Any graduate of an Idaho high school, homeschool, or someone who earned their GED or HSE in Idaho.
Scholarship Idaho uses your SSN as your unique student identifier we receive your application(s) we know it represents one unique student – YOU! We also need it to ensure we capture your FAFSA data should you apply to any of the state-managed scholarships that required it.
What if I don't have an SSN?
The only students who can apply and may not have an SSN are DACA students. If you are a DACA student who is applying, please use a TIN if you have it.
Or….contact scholarshiphelp@osbe.idaho.gov
Is there a cost for me to apply?
There will be no cost for students using Scholarship Idaho.
What if I cannot remember my password?
If you need to reset your password, just hit Forgot password on the Login page and it will walk you through the process of resetting your password.
Account Confirmation
I haven't received my confirmation email?
Double check you're using your PERSONAL email, not one provided by the school. School accounts often block external emails.
SPAM filters & typing errors are also racking up some casualties. So, check your SPAM folder and double-check you entered your email address correctly into Apply Idaho.
Make sure your email account isn't full. Has it exceeded the storage limit for the mailbox error; undeliverable? If so, then make sure their accounts have enough memory/space to accept new messages
How long is a verification email active?
A verification email remains active for 24 hours. If you haven't clicked on the verification link within that timeframe you will need to request a new one.
Profile
How do I indicate that I am enrolled in multiple tribes?
If you are enrolled in multiple tribes, please select your primary tribe from the list in the "Please choose the tribe you are enrolled in" question.
For many students this is your identification number provided by your high school. If it is not, ask the staff at your high school.
If you're an Idaho homeschool student who has taken a class at an Idaho public or charter school, reach out to them for assistance. If you've not taken a class at an Idaho public or charter school you can request an EDUID from the Idaho State Board of Education by emailing scholarshiphelp@osbe.idaho.gov
Why do you need my EDUID?
Scholarship Idaho uses your EDUID to confirm your high school GPA and as well as any dual credits earned while you were in high school.
Qualification
Can I use the Idaho Opportunity Scholarship for graduate school?
The short answer is no, only undergraduate students are eligible.
Can I apply for the scholarship for Spring 2023? I'm graduating May 2023 and I'd like the scholarship for my last semester.
We do not have a spring application. The scholarship application is for the 2023-24 year, which begins Fall 2023.
My high school isn't listed. Can I still apply for state scholarship programs?
Sometimes at first glance, it might seem like your high school is missing from the list, but make sure you're looking for the full name of your high school and not just its casual name.
For example, Boise High is listed by its official name – Boise Senior High in Scholarship Idaho.
If you still don't see the name of your school, reach out to the scholarship team at scholarshiphelp@osbe.idaho.gov
My GPA isn't a 2.7 now but it will be after spring semester. Can I apply using my expected GPA?
We must use the GPA that you have as of the time of the application deadline. You can apply for the next cycle once your current GPA is at least  2.7.
Scholarship Specific Questions
Is there a limit to the number of edits I can make to the specific scholarship questions once I've applied?
There are no limits to the number of edits you can make, but please keep in mind the more times you must resubmit your application every time you make edits.
REMINDER– You MUST RESUBMIT your application(s) after you edit your answers.
What is the min/max word count on short answer or essay questions?
Keep in mind the maximum word count for any scholarship application essay question is 2000 characters including spaces and punctuation. Anything longer than that will truncate your response.
What are some best practices for completing short answer and essays in Scholarship Idaho?
Keep a file on your computer with a backup of your essays
If you are pasting your essay into Scholarship Idaho, paste it first into Note Pad or Text Edit, and then paste it into Scholarship Idaho to avoid formatting irregularities
Always double-check that the content appears correctly and, in its entirety,
Be sure to proofread your essays for any typos
There is no save button – so anything you type is saved – but it's not automatically submitted so make sure to click on the submit button after reviewing your application.
Summary Page
FAFSA - It says Scholarship Idaho hasn't found my SSN on any completed FAFSA. What do I do?
Make sure you completed the year's FAFSA for the application year you are applying for.
For example, if you are applying for the 2023-24 year, make sure you completed the 2023-24 FAFSA.
If you did, contact scholarshiphelp@osbe.idaho.gov  because your SSN may not match the FAFSA.
EDUID - I left my EDUID blank on the personal information page and now I see an orange warning?
Ask your high school counselor for your EDUID if you are a senior.
Contact scholarshiphelp@osbe.idaho.gov if you attended an Idaho high school or public university since 2008.
Submission
Can I stop the process of applying and return to complete the required information later?
Yes, you have the option to return to your account and complete your application. The application auto-saves as you go along. Just don't forget to hit "Submit" when you have a scholarship complete!
What if I change my mind and want to remove one of my scholarship selections or withdraw my entire application?
If you are offered a scholarship, at that time you will have the option to decline, if for any reason you no longer wish to receive it (i.e. you have decided to attend school out of state).
Can I apply to another scholarship AFTER I have already submitted my Scholarship Idaho application?
Yes, you may log back in and apply for any additional scholarships you qualify for, as long as it is within the application window for that scholarship.
To do so, log in, then go to the main menu (three bars). Then go to apply and then go to page three to select the application and page four to answer the questions.
Will the information I disclose on Scholarship Idaho be shared and if so, with whom?
By creating an account with Scholarship Idaho, you are giving permission to the Idaho State Board of Education to share your personal information, including SSN, with:
The Idaho institution you plan to attend as identified on your application. This information is ONLY used to facilitate or administer financial aid.
Your high school so they can help assist you with the application process.
Patterns observed in Scholarship Idaho will inform annual, statewide reports about scholarship access and funds disbursement.
How do I know my application was received?
After clicking on the "Submit" button you will be taken to a confirmation page. You will also receive a confirmation email in your inbox.
It's also good practice to log back into your Scholarship Idaho account and verify on your Status page. It should say "submitted" for each scholarship you've applied for.
System Requirements
What are the system requirements to use Scholarship Idaho?
PC (Windows version 10 or version 8.1)
Mac (OS version 10.14 or higher)
Email: if your email offers a list of allowed addresses, please add the following: scholarshiphelp@osbe.idaho.gov